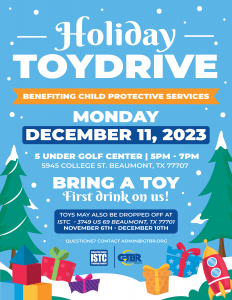 ISTC & GTBR TO HOST ANNUAL HOLIDAY TOY DRIVE
Beaumont, TX, November 15, 2023- The Industrial Safety Training Council (ISTC) and The Golden Triangle Business Roundtable (GTBR) are thrilled to announce a collaborative effort to host a Toy Drive benefitting Child Protective Services (CPS) this holiday season. Every child deserves a happy and memorable holiday season, and this Toy Drive is the perfect opportunity for individuals, businesses, and organizations to come together and spread joy to those in need. Support for this program can bring joy, hope, and happiness to countless children. Donations should be new, unwrapped toys suitable for children of all ages.
How to Donate: To participate in the ISTC/GTBR Holiday Toy Drive, community individuals and businesses can drop off their new, unwrapped toy donations at the following locations through December 10, 2023:
Drop off location #1:
ISTC's Conference Center at 3749 Hwy 69 N Beaumont, Texas 77705.
Drop off location #2:
Join us at 5 Under in Beaumont, Texas on December 11th for the Holiday Toy Drive Mixer from 5pm-7pm. Bring your unwrapped gift, play golf, and enjoy your first drink on us!
About Golden Triangle Business Roundtable
GTBR is a 501c(6) Texas Trade Association and is comprised of a broad cross-section of owner interests associated with many sectors of local business including member companies who are users of construction and maintenance services in their day-to-day operations. GTBR's mission is to promote cost effective construction and maintenance in the Southeast Texas area through the cooperative efforts of owners and contractors for the benefit of its members and the community.
About Industrial Safety Training Council
ISTC is a 501(c)3 Non-Profit training and education organization located in Southeast Texas. The organization is firmly entrenched in the Petro-chemical and Refining industry and delivers safety training and site-specific job safety orientations to contractors and employees across the nation.
FOR IMMEDIATE RELEASE